Est 2008
Following an extensive refurbishment we have reopened with the addition of seven bedrooms. in light of this, we have been nominated for food & travel's 'gourmet bolthole' award. if you have enjoyed your stay with us we would really appreciate your vote - foodandtravel.com/awards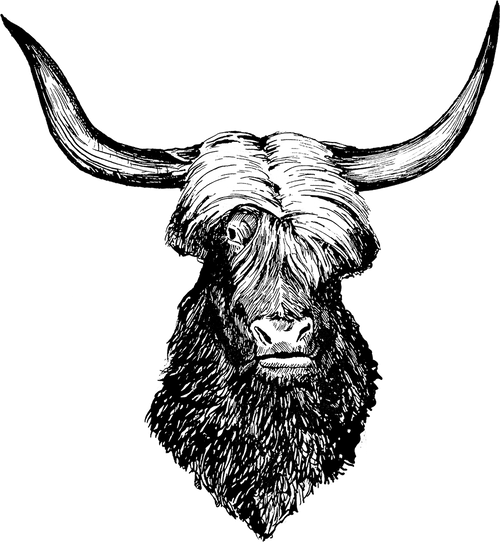 Menus
Our food menus are tailored appropriately to season and availability. Changing daily, we use the highest quality of produce, cooked with care.
Rooms
Our seven guest rooms are elegantly decorated and take inspiration from Kenwood House and the 800 acres of leafy Hampstead Heath.
All bedrooms feature en suite bathrooms and a selection of high end amenities, such as our own Woodsome products which have been thoughtfully designed for a relaxing and indulgent escape in London.
If any issues with booking, please do not hesitate to contact us directly.
Somerset
Streams of natural light pour through two large period windows whilst keen art lovers appreciate the butterfly artwork from the wonderful Les Couilles di Chien. 'Somerset' is dedicated to Lady Henry Somerset - A Philanthropist, Temperance leader and women's rights campaigner.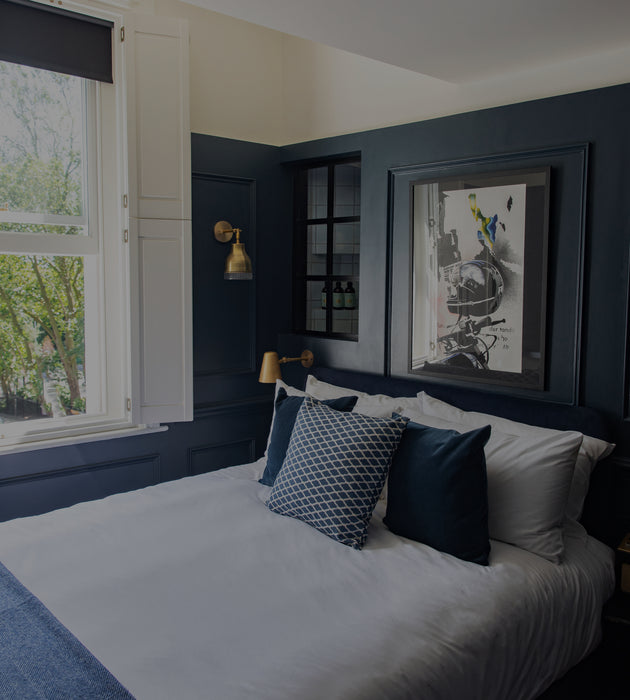 Ellis
A snug and cosy room painted in Hague blue. Showcasing art from local artist Dacre Punt who exhibited his collection here many years ago. The quirky en suite bathroom features thick white Claybrook tiles and a Crittal window to maintain an airy yet contemporary feel to this charming room.
Keats
Inspired by John Keats loyalty to the Heath the oak turned wall lights pay homage to the great man. Soft furnishings such as velvet headboards, teal cushions and a warm woollen throw encourage a spot of reading and relaxation. In the bathroom the Campinola mint tiles offer a deep warmth which is offset against the pale powder colour of the bedroom - keeping it light, airy and classic.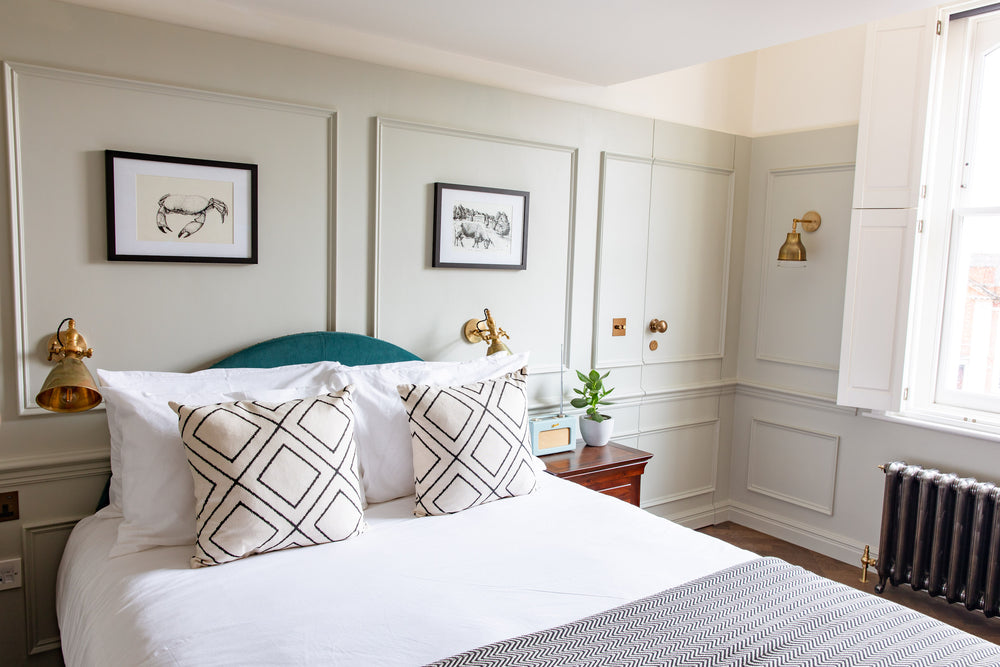 Dido
One of our larger rooms, 'Dido' in tribute to Dido Belle, keeps the original fireplace in honour of the historic fireplaces of Kenwood House. Whilst growing up she would have seen Longhorn cattle grazing the Heath, hence the artwork on show from James Nunn. The colour schemes in the room are based on the portrait work of David Martin.
Faraday
In a nod to Michael Faraday's ground breaking work in electro magnetics, we chose a bespoke Catchpole & Rye free-standing copper bath. Hanging nearby, an antique print of the pub from the same era alongside some rare pieces of taxidermy. The Lefroy brooks shower benefits from natural light shining through the roof lights in the well-proportioned and bright bathroom. A large and elegant room with plenty of space to unwind and relax
Mansfield
A former proprietor of Kenwood House, the Earl of Mansfield was a staunch protector of the Heath, opposing development across all corners of the park. In his honour 'Mansfield' has been decorated in Green Smoke and extensively furnished with plants. The free-standing bath from Catchpole and Rye is a twist on the Iconic Bath house and the en suite decorated in marble which was used heavily throughout Kenwood House. Spacious, thoughtful and decadent for the perfect night away.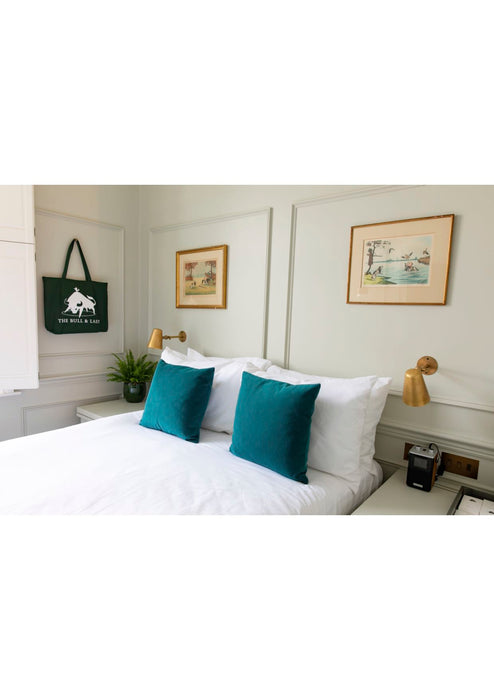 Gotto
Named in honour of Henry Gotto, the great proprietor of the Bull & Last who rebuilt the building as you see it today. Our smallest room hosts a standard double bed yet boasts a generous en-suite. Despite its size, Gotto still benefits from most of the amenities in our king rooms. Whilst the proportions do not allow for a desk, the room benefits from an abundance of natural light.
careers
we are always on the look out for talented individuals wanting to either start or further their career in hospitality. from in house butchering to boutique hotel service we offer varied roles with a keen interest in hospitality at the heart of it all. do get in touch with us at enquiries@thebullandlast.co.uk for our current vacancies.